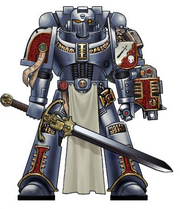 The current GK list core I have been liking thus far is as follows. What's a list core you might ask? A list core is a set of units that form the basis of a list. List cores differ from list to list and player to player, but basically, it's the stuff that you feel is essential for a list to function like it is supposed to. Once you have met the core components, you can add, customize, or tailor your list according to how many points you have left or what you feel like bringing. I'll do a BLOG post on list cores at some point, but there are also some already floating around in cyber-space if you care to read more about the concept.
Anyways, here's the list core for the Deep Strike/Gun Battery list I've been running.
HQ:
Librarian – Shrouding, Summoning, 3 x Servo Skulls – 175
Elites:
1 x Venerable Dreadnaught + 2 x Twin-Linked Auto-Cannons + Psybolts – 195
1 x Venerable Dreadnaught + 2 x Twin-Linked Auto-Cannons + Psybolts - 195
Troops:
10 x Strike Squad + 2 x Psycannons – 220
Razorback + Twin-Linked Las (Lasback) - 80
10 x Strike Squad + 2 x Psycannons – 220
Razorback + Twin-Linked Las (Lasback) - 80
Heavy:
Dreadnaught + 2 x Twin Linked Auto-Cannons + Psybolts – 135
Dreadnaught + 2 x Twin Linked Auto-Cannons + Psybolts - 135
Dreadnaught + 2 x Twin Linked Auto-Cannons + Psybolts – 135
So, before I even begin discussing, the first thing to note and the one thing I really dislike about this core is that it already consumes 1570 points just to fill the core. So, if you are looking to play at 2000 points, this doesn't give you much play room just to mess around with. Do note, though, that if I had to play at 1500 (or likely 1750), I would probably drop a Venerable to free up points for more flexibility.
Anyways, this has been the down side of core builds for working with GKs since I really started looking at the dex. It always seems like by the time I get all the pieces together to formulate a basic game plan for a list, I'm already 1500+ in.
Now, I've already tried Purifier spam lists, just so you know. They work "decently", but they desperately need a long range shooting element. Play tests have already shown me that you need a minimum of 3 Psybolt Dreads in order to make it really work. So, the core of any Purifier list starts for me as Crowe (150) + Dreads (405) = 555. From there, you can start putting in Purifier squads, but I have found also through play testing that you really struggle to get enough bodies into the list, especially to manage your 24 inch range.
Now, I'm not using this article to discuss Purifier list or Hencmen lists, but I wanted to specifically mention issues I was having with Purifiers lists so you can understand why I even sought out this other kind of list to begin with.
It's easy to see that the core above puts out a lot of Strength 8, Twin-Linked Shots. Indeed, but that is not really what makes the list work. That being said, 20 TWIN-LINKED Strength 8 shots is equivalent to approximately 27 normal S8 shots. 27 is the number of shots my Logan-Wing Missile Spam would average. So, it is pretty devastating! Anyways, on to the what really makes this list work.
An Extremely Durable and Lethal Firebase
Combining Shrouding + Dreads in cover is just plain gross. A 12 armor dread is already a nuisance to kill. A 12 armor dread with a 3+ cover save is extremely durable. A 12 armor dread who can effectively ignore shaken/stunned results until the opponent can get a hood in range (usually 2 turns in my experience) is just ludicrous. A 12 armor dread who can do all of that, AND is venerable, is just impervious! Realize that a Vendetta only has a 12% chance of stopping one of these dreads from shooting, and those aren't even the venerable ones. You can knock off guns, you can immobilize, but he'll keep right on firing.
Play testing has shown me that basically, I end up with a fusillade of fire power equal to the general amount that my Logan Wing Missile Spam used to churn out that is about as durable as having 5 Land Raiders on the board so long as they are in cover. And they will be in cover. How? Because I will use available terrain and my own Razorbacks to make sure they are in cover. The libby will hide snuggly in the fire base, and out of LoS, behind a Razorback as well.
Generally, for this reason, I like to take a third vehicle of some kind.
Now, granted, this could be a bit dangerous if my opponent has a Manticore. Not everything is perfect, and we have ways of dealing with him in a moment in a pinch.
Also, no you can't "just deepstrike back there and melta gun". Because if you have a heavy DS element, I'll put a Strike Squad back there to Warp Quake you away. A servo skull well placed will also keep you from scouting anywhere nearby. It's rock solid.
Play tests have shown me that this fire base is extremely frustrating for my opponents. It's very effective anti-vehicle and decent anti-infantry, which is difficult to shut down.
Deep Striking Troops
I deep strike my Strike Squads, generally. This gives me a board presence to contest or control objectives. It also allows me to get side shots, threaten rear elements, and a host of other goodies. The best part about this is, if my Strike Squad gets into a lot of trouble, my Librarian will use Summoning to summon them back to the supreme safety of "Fort Dreadnaught".
Put a servo skull in your "fort" at least until they FAQ that summoned units don't scatter.
Servo skulls are also great on the flanks to assist your Deep Strikes.
Dreadnaught Close Combat
The other crucial element that is making this list so effective for me is the plethora of Armor 12 Walkers and their ability to tie up assault units. My opponents are having a very difficult time approach the Razor wall, because if they get to close, the Dreads will step out, assault, and tie them up for the rest of the game. This provides just an immeasurable amount of defense versus melta gun units, Demons in general, Orks/Deldar fast assaults, and more. Especially if a Venerable dread gets into a unit, it's a terror to ever pull him out. Just so you know, a Powerfist has terrible odds of killing a Dread.
Shooting list
This is a shooting, not assault list. And shoot it does. The Strike Squads can DS towards rear elements if the enemy advances to Psycannons side armor on say, that Manticore from before? Pew pew and threaten Long Fangs with an assault. And so on.
Last 400ish Points
So far, I've really been liking a 5 man terminator squad with Psycannon to either Deep Strike or go with the Librarian. I also have been tossing in another 5 man strike squad plus 3rd Lasback.
Give it a practice go and let me know if you have any good suggestion for improvement.